Neil Simon Theatre Information
Originally named the Alvin Theatre after the first names of the producers Alex Aarons and Vinton Freedley, the theatre was designed by architect Herbert J. Krapp and opened in 1927, running successfully for several years and premiering major productions such as Porgy and Bess as well as launching the careers of actors such as Ethel Merman. However when the Great Depression rolled around, in 1932 Aarons and Freedley were forced to give up the venue, after which it was used for a while as a radio studio. In 1960, the venue re-opened and began once more to run Broadway productions, including the original Annie, which ran for six years from 1977. The same year, the venue was renamed the Neil Simon Theatre by new owners Nederlander Organization, after the playwright Neil Simon.
In 1985, the theatre was designated a New York City Landmark by New York City Landmarks Preservation Commission. The theatre was expanded from a capacity of 1,328 to up to 1,467 capacity in 2002. Today, the venue remains one of the city's most important venues for Broadway productions.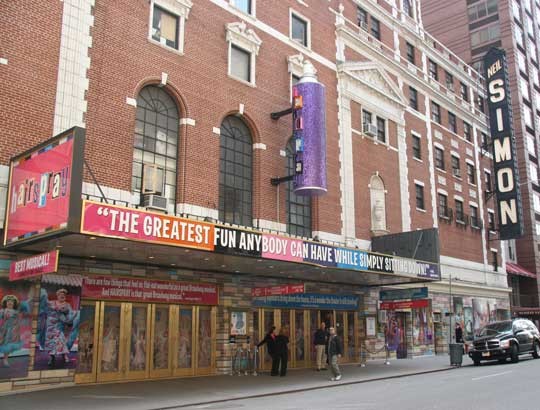 Please see the links below for further information on Neil Simon Theatre:
Do you require parking? View the Neil Simon Theatre parking information page.
Want information on our recommended ticket provider and ticket policies? View the Neil Simon Theatre tickets page.
Find out about accessible seating and view the Neil Simon Theatre seating chart page here.